Missions Conference
When: 03/18/2020 at 7:00 pm to 03/22/2020 at 2:30 pm
Contact: Kris Wilder for more information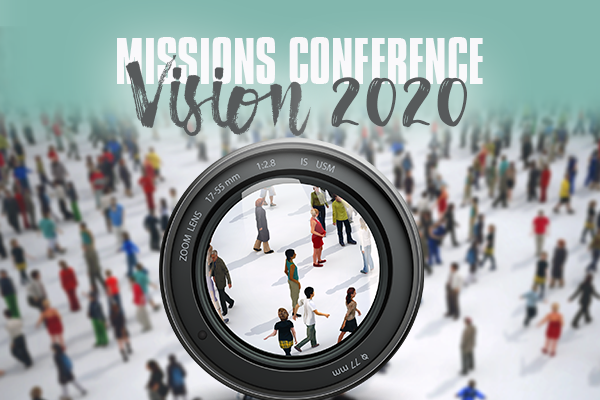 SCHEDULE
Wednesday, March 18, 2020
7:00 PM Service*
Thursday, March 19, 2020
11:30 AM – Pastors' Luncheon
Sign up to participate in various opportunities in various locations for fellowship in the evening
Friday, March 20, 2020
7:00 PM – Service*
Post Service – Ice Cream Social (Welcome Center)
Saturday, March 21, 2020
Sign up to participate in various opportunities in various locations for fellowship in the evening
Sunday, March 22, 2020
9:45 AM – Combined Adult Bible Fellowship**
11:00 AM – Service beginning with Flag Parade*** 
12:30 PM – Wrap Up Luncheon in the Gym – please sign up so we can plan.
Nursery will be provided for all Services

*3yrs – 4th grade will begin in the service, then dismissed to children's conference

**3-5 years grade will meet in normal classes, 1st grade and up will attend combined ABF

***1-4 grade will begin in the service with their parents, then dismissed to Junior Church
FELLOWSHIP OPPORTUNITIES – Please Sign Up so we can plan!
Wrap-Up Lunch  –  Sunday, March 22  at  12:30 PM
Lunch will be provided – come and fellowship!  Please sign up online or at the conference table in the Welcome Center.  
Menu:  grilled chicken, roast beef with gravy, mashed potatoes, green beans, mac-n cheese, tossed salad, corn, various desserts.
Potluck Fellowships – Various Times and Locations
Enjoy fellowship with some of your church family and one of our missionary guests at your preferred time and/or location.  Sign up online or at the conference table in the Welcome Center. Opportunities available on Thursday evening, Saturday morning, and Saturday evening.
SERVICE OPPORTUNITIES
For more information regarding these opportunities, please contact Heather Jones (heatherj@friendshipraleigh.org).  
Nursery Workers  – Friday Night
There is a need for extra nursery workers during the conference.  Please contact Beka Boehme if you are able to fill in so parents can serve and/or attend the service.
Children's Workers – Wednesday & Friday Night
Do you love to work with children?  Are you child-safety approved?  Would you consider being a "chaperone" during the children's conference?  No prep-work involved – just sit with the children and supervise!
Missionary children Childcare Opportunity
Are you available during the day? Two of our missionary guests have children, and there is an adults only event on Thursday.  Please consider watching the children (ages 10,8,5, and 6 months) during the Pastors' Luncheon on Thursday, March 19 from 10:00 am – 2:00 pm. 
Event Set up, Clean up, and Serving Opportunities
Clean up after the Missionary Orientation Dinner on Wednesday at 6:00 pm in A-35
Clean up after the Pastors' Luncheon on Thursday at 12:30 pm in the Welcome Center
Covering tables in the gym on Friday afternoon around 2:00 pm (exact time TBD)
Clean up after the Wrap-up Lunch in the gym (men and women)