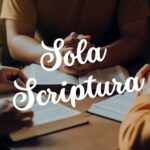 The Sufficiency of Scripture
What do we mean when we claim that the Bible is the inspired Word of God? Many would agree that the Bible is a sacred book. Many are willing to concede that, but they do not believe that it is the only sacred book. They believe that the Bible contains the words of God but is not the Word of God since they think that there are other complements to it.
But if we are not sure that we have an inerrant book in our hands, how can we be sure of the veracity of anything that we read in it?