FBC Ladies Retreat Spurs Hospitality and Friendship
Written by Erica Baldwin, FBC church member
Painting, puzzles, ziplines, and Bible study. What do these things have in common? They were the "open door" for more than 40 Friendship Baptist Church women and their guests to get to know one another in the green-canopied setting of the Caraway Conference Center in Sophia, NC, earlier this month.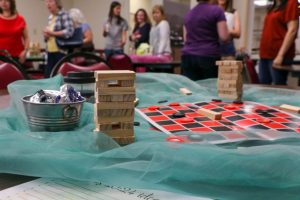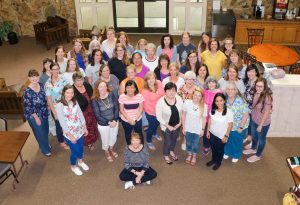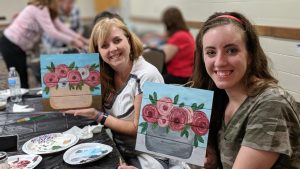 Away from regular responsibilities of home and work, the ladies were challenged during the overnight retreat with the theme "Open Doors" from Hebrews 10:24:
"And let us consider one another to provoke unto love and to good works."
Speaker Joanna Davis encouraged attendees to look for traditional and non-traditional ways of showing hospitality to fellow believers and non-believers alike. Davis is a long-time pastor's wife, whose family now is ministering through the EMU International mission board in Taylors, SC.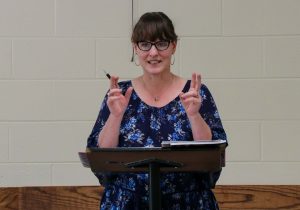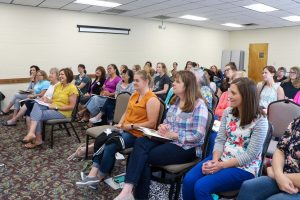 "God uses His people to help us go deeper," said Davis, cautioning the retreat-goers against becoming a solitary Christian. "We need to be busy helping others love and do good works. Our purpose is God's glory and His good news."
She also shared practical ways to live out the Gospel through prayer and deeper Bible study techniques – and to not forget that we need each other to live this Christian life well.
"The Bible is all about a Person – Jesus," Davis reminded the ladies. "Our Bible study should be God-centered as we focus on Him as the center of Scripture." She encouraged attendees to make a notebook of God's attributes, as modeled in Mardi Collier's book "What Do I Know about My God?"
"Don't give up praying for something or someone," she continued. "Your prayers are ripening them, getting them ready."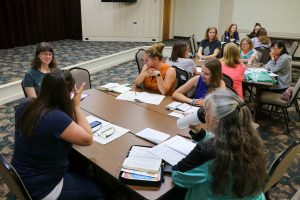 In addition to the sessions and small-group Bible study on hospitality, plus dedicated prayer times, there was ample free time built in for getting to know each other. Old and new friends discussed ways to open their hands, hearts, and homes to others.  Cross-generational ladies heard testimonies from those in discipleship relationships and others' amazing stories of decades of God's faithfulness.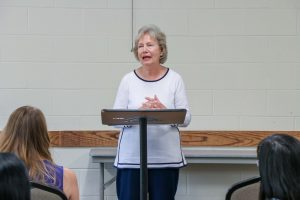 "As one of the 'older' women, it was such a delight for me to get to know some of the 'younger' ones. We laughed together, cried together, prayed together, learned together, and I felt our hearts being knit together with one desire to love the Lord our God with all of our hearts," shared Bev Jepson. "I came away with a greater urgency to pray for the young moms who are seeking to raise their children to the glory of God."
She added, "I left with a heart overflowing with hope, praise, and thanksgiving to the Lord for such a sweet, refreshing time together."
Breanna Adkins echoed Jepson's enthusiasm. "I enjoyed being able to get to know so many of the other ladies better during the retreat. It was encouraging to hear many of them share about their walk with the Lord and to be able to spend time in prayer together. I will definitely go again!"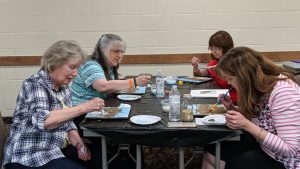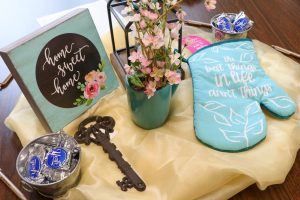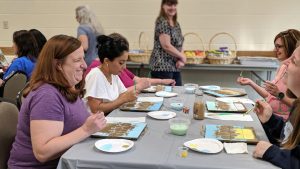 Church member and artist LuAnne Payne led a painting class for nearly 20 ladies, who took home their works of art. And the rain couldn't dampen the outside activities like canoeing, hiking, ziplining, and even oven-roasted s'mores. Additionally, giveaways of books and home decor were peppered throughout the two-day retreat.
From Heather Jones, Ladies Ministry Director:
We asked the ladies' to take a post-retreat survey, and one of our questions was, "What was your take-away from the ladies' retreat? One of the responses was, "How much I love my church."  I must agree! Events like this are important for so many reasons, but a big one is that it brings us together in a more intimate "family time." We need each other!
I would like to encourage the ladies of Friendship Baptist Church to take advantage of opportunities to "consider one another to provoke unto love and to good works." Ladies' ministry events are an excellent way to help you do that! Here are a couple of the planned opportunities coming up:
Ladies' Prayer Meeting | June 22, 2019 | 8:30 am | FCS Library
Ladies' Regional Small Group Outreach Event | November 2019 | stay tuned for more details