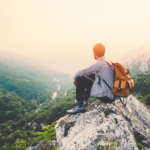 From "Vacation Mode" to Kingdom Mindset: Balancing Rest and Obedience
It's easy to get wrapped up in the allure of vacation mode—enjoying the change of pace, the peace, and the relaxation. The thought of returning to work, school, busyness, messiness, and the general monotonous aspects of life can easily become a dread.
But as Christians, it's important to remember that our ultimate purpose in life is not to follow after temporary pleasures or seek comfort and relaxation.