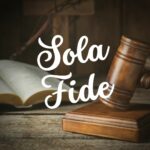 Sola Fide: Justification by Faith Alone
Justification is the gracious act—not a process—of God in which God declares [pronounces] righteous the sinner who believes on Jesus. This great doctrine is under attack from the most unsuspected sources—even those who outwardly espouse it.
The glorious doctrine of justification by faith is one of the fundamentals of the faith that was championed by Martin Luther and sparked the Protestant Reformation.