Love Your City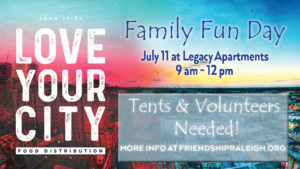 Written by Brent Brondyke, Music Pastor
If you have attended or watched any of our services over the last few months, you have heard about the "Love Your City" project with which we have been involved since early April. In partnership with the Raleigh Dream Center, we have distributed around 7100 school lunches. Pastor Jan Milton has directed this effort, along with a great deal of help from Tom Capps and Thomas Bleumling. Many others have chipped in regularly and faithfully as volunteers in the effort.
The purpose of the "Love Your City" project is to show Christ's love by serving. We hope and pray that this will give us opportunities to share the gospel. Each day devotionals are prepared (which always contain a gospel invitation) and distributed with the meals. One of the two areas where we distribute meals is heavily Spanish-speaking, so the devotionals are written in Spanish for that area. Initially, the devotionals were written by Pastor Milton and all came from the stories of the feeding of the 4000 and 5000 from the Gospels. As the effort has continued, others have chipped in with preparing these and the themes have expanded. They always focus on a Bible story from a child's perspective.
The original plan was to receive the lunches from an area school each day, deliver them to the apartment complex assigned to us, and to wait in a central spot for people to come to us to receive the lunches. This is the way we were instructed to operate. However, the first few days, few people came to get the lunches. That's when things got interesting!
Rather than giving in to discouragement, some team members went door-to-door at the Legacy at Six Forks Apartments where we were located. This led to the development of a spreadsheet with contact information and two "delivery routes" we followed daily, serving by actually bringing the meals to their doors. The residents loved this and were very appreciative. We have heard countless "thank you's" and other words of appreciation.
After a couple weeks, the leadership group was looking to expand our ministry and asked the Dream Center for another site. Homestead Mobile Home park was given to us. At Homestead the team quickly transitioned to door-to-door. Within a few days, they were giving out over 100 meals a day!
This was all a learning opportunity for me personally. When we first considered going door-to-door, I admit I was not in favor. My attitude, and stated opinion, was that folks should at least be willing to come to the apartment office to get a free lunch (and breakfast which is included daily). After a few days of delivering meals, I found that I loved it! I was getting to know people and having interactions I would not have had otherwise- if they had just walked up to a table to have the lunch handed to them. I learned their names, and many of them learned mine also. We had a couple families visit our services from my little "flock" (how I came to look at them). Visits have been made by Pastor to several of the homes.
At Homestead it was exciting to see the dynamic of the team develop. Several very faithful teens were keys cogs in that wheel. They were dependable and worked HARD! They led the way in door knocking to develop the route where meals were needed. It should be noted that these school lunches are normally available (at school) to those who pay and to those who qualify based on financial need. During the current crisis, the lunches are being offered to any child aged 2 to 18. Also, the program is continuing throughout the summer. We will be ending our participation later in July.
Now we are planning follow-up efforts for the rest of the summer, beginning with a "Family Fun Day" on Saturday, July 11 at the Legacy Apts. This carnival-type event is eagerly anticipated by the residents and management at Legacy. The gospel will be given three separate times throughout the morning. We are looking for a date for Homestead as their corporate offices scuttled our initial date for a similar activity because of Covid-19 concerns. Would you consider helping, so we can make this a fantastic day for these families? Sign up to help.