Friendship Ladies Encouraged at Fall Fellowship
In early October, Friendship Baptist ladies of all ages gathered over sweet and savory fall treats – encouraged not only by conversation and fellowship but through exhortation to use their gifts and testimonies for God's glory.
"God is excited when we replicate our faith to others," said Rose Song, the church's sent missionary to South Korea, along with her husband and three daughters. She shared her family's heart for evangelism and how all believers can invest in others by offering the hope of the Gospel.
Compassionate Discipleship
Rose discussed their mission field and the practical ways she reaches souls. As a country, life is severely undervalued in South Korea. Abortion rates are high, especially among babies deemed disabled. Suicide is prevalent, and locals discuss family suicides as common due to extreme financial debt. Unfaithfulness in marriage is widespread, as is sex trafficking and brothels. If an individual doesn't drink alcohol, it's nearly impossible to get credibility in the business world.
In contrast, Rose said, "Christ's earthly ministry was overflowing with compassion for souls…Our compassion grows when we put ourselves in others' shoes." In her desire to reach South Korean women for Christ, Rose said she needs to not just evangelize but to disciple them on how to walk faithfully once they are saved.
"Discipleship takes time and investment," she said. Rose needed to get creative, so she prayerfully began to reach out to women through various avenues: a book club, art club, her daughters' music lessons, and English story time at the library. Many have come to know Christ, join the church, and are trying to reach unsaved family members.
Along with discipleship, Rose said it's wise to always have a mentor and a mentee, reminding the ladies that they're never too spiritually mature for a mentor.
"Your faith feeds off evangelism. Your hunger grows," encouraged Rose. Even if you're not on the mission field, ask yourself, "Why am I here? How can the Lord use me?"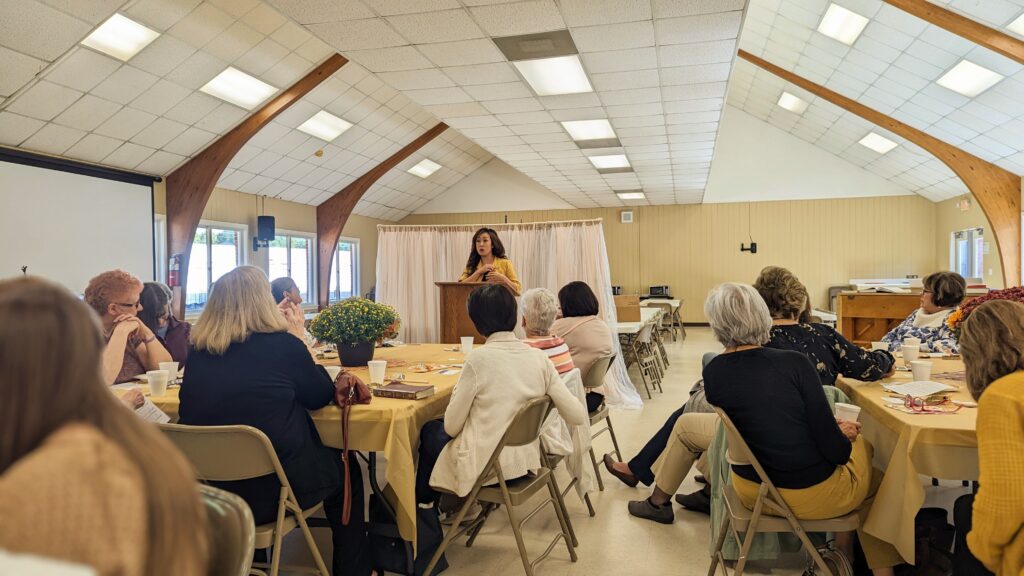 Every Chapter for His Glory
Kathy Waters, part of the missions sending team for the Song family and a Sunday school teacher, shared her testimony and encouragement from God's Word. Her childhood included a Catholic background and a difficult home life.
"We have a dot of a life, and there is an 'already' and 'not yet,'" said Kathy. "We learn our history through the Word of God, from Adam and Eve to the kingdom He has for us."
Kathy admitted that she used to be hesitant to tell about her past, but she now sees the hard chapters as works of grace. She said her story, and yours, are illustrated in Ephesians 2: Once dead in sin, we are made alive together with Christ for good works. We will be seated in heavenly places.
"Before you were saved, you were a child of disobedience. So was I," she said. "I'm His workmanship, His poem. Crafting poems is creating a thing of beauty, just like God creates us in such a way – even from an unhappy home."
"Our lives are about God," she continued. "Your story is necessary because you have a little sister in the faith who needs to hear it."
"God doesn't make mistakes, and He is the heart of pity. Pity is a good thing when it comes from a loving heart," said Kathy. We can share our struggles because it leads to sharing God's comfort. Citing 2 Corinthians 1:11, she added, "God gets multiplied glory when we share His stories from our lives. If pride hinders us from getting help, we need to kill it."
Kathy said our own biblical faith should mirror Abraham's, as defined in Romans 4:20-22: Believing that God is able to accomplish what He has promised. In light of that, we should not make excuses for ourselves, but live in our second-born nature and root out anything that is sin.
With a final exhortation, Kathy challenged the ladies, "Be busy to learn the Word and start teaching what you know. Use the gifting God's given you. Christ needs you."
Throughout the morning, several door prizes were given, and individual prayer request cards were distributed to continue mutual encouragement and prayer among the ladies. To begin and end the fellowship, attendees were blessed by singing together My Heart is Filled with Thankfulness. The closing verse captured the spirit of the event:
My heart is filled with thankfulness
To Him who reigns above,
Whose wisdom is my perfect peace,
Whose ev'ry thought is love.
For ev'ry day I have on earth
Is given by the King;
So I will give my life, my all,
To love and follow Him.
Text: Keith Getty & Stuart Townend
© 2003 Thankyou Music