Favorite & Funny Moments from The Wilds Couples' Retreat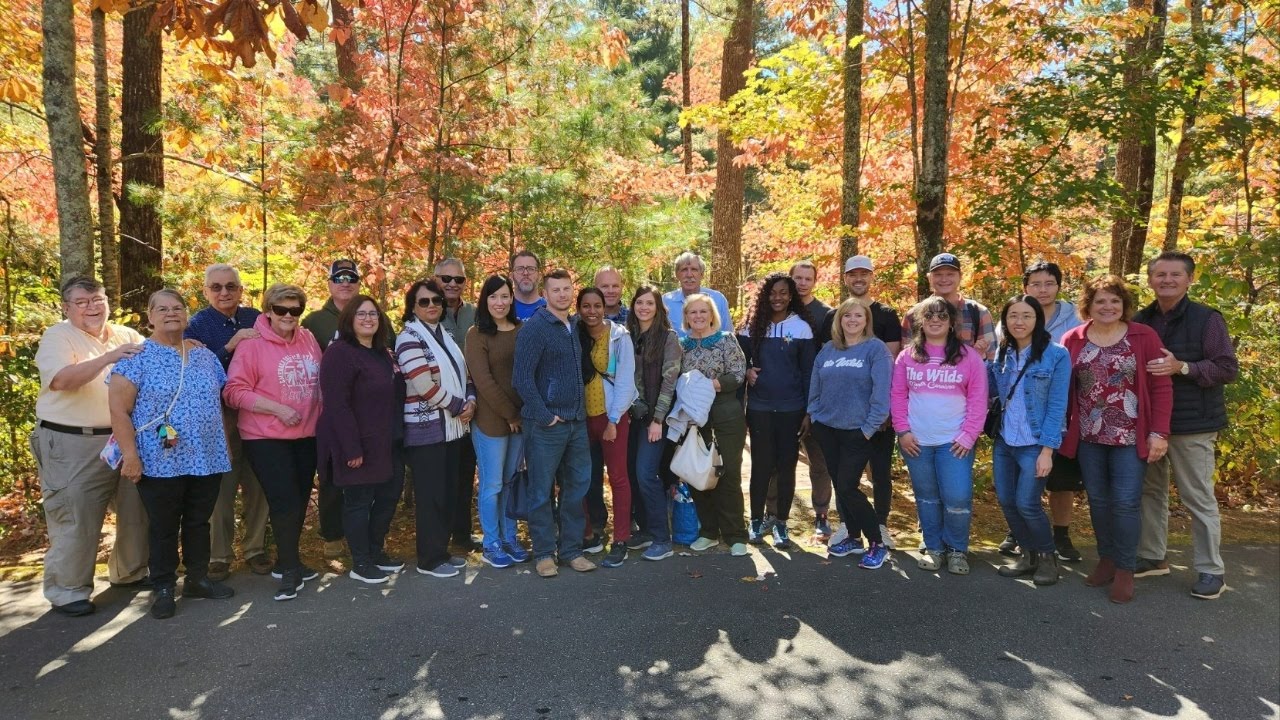 The Wilds Couples' Retreat is "an incredible opportunity to get away from the routine to enjoy a weekend of renewal physically, emotionally, and spiritually." Led by Gary & Sherry Goodson, fourteen couples drove to the NC mountains this past October. Gary is a long-time teacher of the Couples for Christ ABF (Adult Bible Fellowship). Todd Abbey, the Senior Pastor at Fairfax Baptist Temple, preached this year's sessions. The group consisted of older couples, younger couples, long-time members, and newer members, which made for a perfect opportunity to grow together in Christian fellowship and strengthened marriages. 
What was the most fun thing you did or the funniest moment?
Group activities were fun – i.e., hiking, or games/talking at night in the lodge

We wanted to do one of the waterfalls hikes, but we are not in great shape, so we chose the first falls because it is the easiest of the four. We huffed and puffed, and it was hard for us – and at the end, we discovered that it was a favorite of the junior campers who hike it weekly! Show-offs! 

Playing Spicy Uno in the game room or Mafia on the bus with several couples. Friendly competition always brings laughter! We've been to this retreat many times, and this was our first time playing Laser Tag – super fun!

The most fun was the zip line, and for those watching as I spun like a top the whole time – I did get great 360-degree views!
Did you meet anybody new? Make any new friends?
Yes, I got to know several new, younger couples better, plus I sat with several 'seasoned' couples who asked how we all met as couples. I enjoyed talking with couples of all ages that you don't always get to talk to at church.

Yes, I met people from our church that I just saw but hadn't really talked to and had never met before!

Yes! I met some from our group and several from other churches.
What was your greatest lesson or a "forever memory" you walked away with?
Great teaching and fantastic service in the dining hall – the young people serving were role models to many of us!

I found Pastor Todd's sermon truthful (and biblical + applicational) and pretty humorous, which is not always a combo in preaching/sermons.

To be an encouragement to your spouse and be dedicated to them

Sanctification is "The Spirit of God using the Word of God to help the child of God become more like the Son of God."
How did God use this time away to bring you closer to your spouse and closer to Him?
We got to have a clear conversation on things we didn't realize we needed to speak on.

The sermons really spoke to my husband and me – how we are ungracious to each other and how we're not submissive to God when we offend our spouse.

I need to spend more time & effort understanding, building up, and removing obstacles (Is. 57:14).
What was your favorite part about the couples retreat? 
I really liked the campgrounds and camp staff – it was carefully operated, which led to a nice time for couples to enjoy and retreat.

The messages!

I did the 4th Falls hike, and it was so difficult. I realized how loving and supportive my husband is and how supportive the members of Friendship were by waiting for me.

Worship times & interacting with Todd Abbey and attendees from other locations

The rich fellowship with fellow believers

The God and I time – being able to pray and talk about the message right away was so helpful and a special time together.

All of it! Food, fellowship, music, the scenery, lessons
"I walked away with more appreciation …

and gratitude for my husband. I'm in awe of God's unending grace to use us and our marriage for His glory. I'm always convicted of ways to better reflect Christ to my spouse and others when I leave The Wilds."
Best food/drink of the weekend?
Coffee 🙂 

I enjoyed all of the food.

Beef roast, potato & carrots dinner

I liked the "candle-lit" dinner with a menu that's a little more special.

Caramel Apple Cider from Cool Beans. It was like drinking a piece of apple pie. The brunch was amazing too. Oh, and the cookie and ice cream dessert. The cookie was still warm and gooey!
Yes. I already recommended it to family members.

Likely – I appreciated the sermons, campgrounds/nature, and people from church (and our ABF class) being able to attend together.

Yes! It was completely refreshing!

Yes! The Wilds is a beautiful time to connect with your spouse and other couples in a gorgeous, God-focused environment. I always leave spiritually refreshed and physically tired from all the fun. 
"Absolutely! I would go every time if I could …

It is rare that we get to spend dedicated time without responsibility with our spouse. It helps refresh of marriage and reminds us to focus on God and each other more intentionally. It also helps you connect with other church members at a deeper level that you might not have time during normal times of life."