Testimonies of God's "Sustaining Joy" Highlight Ladies Brunch
More than 130 ladies gathered on January 18 for the "Joy in the Morning"-themed brunch to hear testimonies on how to tap into God's boundless joy while waiting for morning to come. They swapped stories of God's faithfulness over scones with clotted cream, fresh fruit, tea sandwiches, and twinkle lights.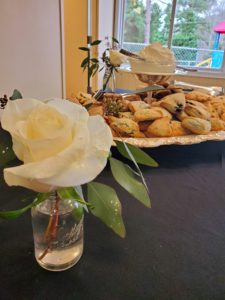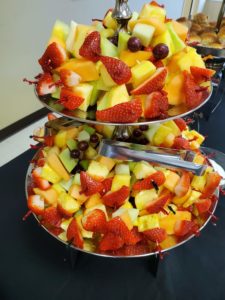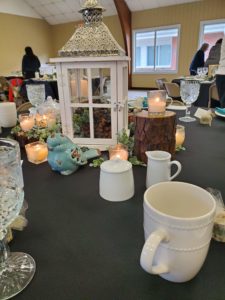 During the brunch, ladies heard from three Friendship members how God preserved their lives and their faith during near-impossible physical trials and despair. They shared how "weeping may endure for a night, but joy cometh in the morning" (Psalm 30:5) has offered hope in their own stories.
"I learned that I needed to give God control of my life, not myself and not others," said Becky DeAngelo, after teenage and young adult years of suffering from loneliness and depression. She realized that God truly gave the lasting joy needed. Erica Baldwin, who deals with an incurable genetic condition, shared three ways to endure night seasons when "joy in the morning" seems far off: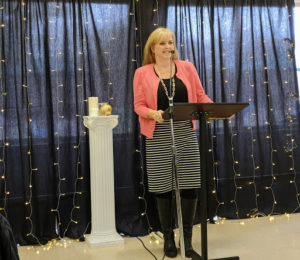 1. Do the next thing.
It's an often-quoted piece of wisdom found in a poem from 1897, but pursuing the practical steps right in front of you can provide purpose. Plus staying faithful to God's word during difficult times will ground you in truth when circumstances are overwhelming. Small steps of obedience are acts of trust in a faithful God.
2. Practice gratitude.
Find practical ways to do so, such as journaling a daily gratitude list, praying or writing out the Psalms, or singing songs of praise. Gratitude for God's provision and unchanging character redirects our minds and hearts when we are in the pit of despair.
3. Reach out to community.
While we're often hesitant to show our weaknesses, reaching out to other believers in our trials allows the church to build their spiritual muscles of prayer, compassion, service, and comfort.
"When we allow our weaknesses to be covered by God's grace, His power is displayed, not our own," said Erica. "If we don't share our burdens, we are essentially stealing God's glory for ourselves." She shared from 2 Corinthians 1:7 how "our hope for you is unshaken."
"When someone is in the middle of their mess, let's offer our hope for them, not condemnation," encouraged Erica. It's not foolish to hope in a God Who can be counted on."
Ladies heard next from Sharon Woodard, who spoke from her wheelchair due to contracting polio at age three and her degenerative post-polio syndrome. Even with her ongoing pain, Sharon said, "God has given me inner joy in the midst of weeping."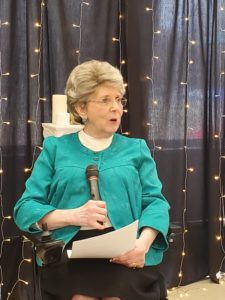 "Can you even begin to imagine the amount of joy God has!?" exclaimed Sharon. "As Christians, we have access to God's boundless joy, a joy that does not come from our circumstances or within ourselves." She shared how Nehemiah in the Old Testament can be an example to us: "He did not act without prayer and did not pray without acting." She encouraged listeners to personalize Scripture, like Nehemiah 8:10: "The joy of the Lord is my strength."
Finally, Sharon offered five ways she's learned to let God be your strength:
1. Meditate on Scripture.
Keep a specific verse in mind for the day and dwell on it. For example, think, "The joy of the Lord is my strength" whenever you struggle or face temptation.
2. Look for God everywhere.
Count all the gifts He's given you, all day long. Try to find Him in the ordinary. This practice will increase your joy because you will start to see all the ways God cares for you. The more you focus on God, the more you will realize He is worthy of your trust.
3. Pray continually.
Every time you face a difficulty, ask God how to deal with it. Keep a conversation going all day long.
4. Let go.
Finding joy in God means letting Him take control of your life. Cast these cares on Him in prayer, and do your best to leave it with Him.
5. Do the next thing.
Echoing this practical advice, Sharon encouraged listeners to seek God's direction and guidance – and whatever part of your life you can change, purpose to do something about it. Use the strength and talents God has given you to better your situation and leave the rest to God.
"As God has preeminence in our lives, through the study and application of His Word and by having intimacy with him through prayer, praise and practice, the Holy Spirit gives us inner joy
even in the midst of chaotic, painful, sorrowful circumstances," said Sharon.
Attendees left with tools for handling their own trials and walking alongside others through their suffering with hope and joy.
"Gratitude to the Lord and to my church family has been welling up in my heart since our ladies' fellowship," said Michelle Hamann. "I walked away challenged to do the next right thing, to have and to show gratitude, and to reach out to my church and my community."
Marcy Ware said she learned to think of JOY (Jesus Others You) as a motivation of serving others. "I can move myself out of the way to see the needs of others," said Marcy.
Heather Jones, the ladies' ministry team leader, wants to thank all volunteers who decorated tables, helped organize the event, and invited guests. Look for future ladies' fellowship opportunities to "gather around the table."
For further study on finding joy in the morning, you can read and meditate on these suggested Bible passages: Psalm 30; Lamentations 3; Psalm 40; 2 Corinthians 1; Romans 12; Psalm 34:17-18; Nehemiah 8; Isaiah 26:3-4; Romans 15:13; and James 5.
Ye Next Thing, A selection from the poem by Minnie Paull (1897)
From an old English parsonage down by the sea
There came in the twilight a message to me;
Its quaint Saxon legend, deeply engraven,
Hath, it seems to me, teaching from heaven;
And through the hours the quiet words ring
Like a low inspiration: "Do the next thing."
Many a questioning, many a fear,
Many a doubt, hath its quieting here.
Moment by moment, let down from heaven,
Time, opportunity, and guidance are given.
Fear not tomorrows, child of the King;
Trust them with Jesus: Do the next thing.
Do it immediately, do it with prayer;
Do it reliantly, casting all care;
Do it with reverence, tracing his hand
Who hath placed it before thee with earnest command.
Stayed on Omnipotence, safe 'neath His wing,
Leave all results, do the next thing.
Written by Erica Baldwin, FBC member