Christmas at Friendship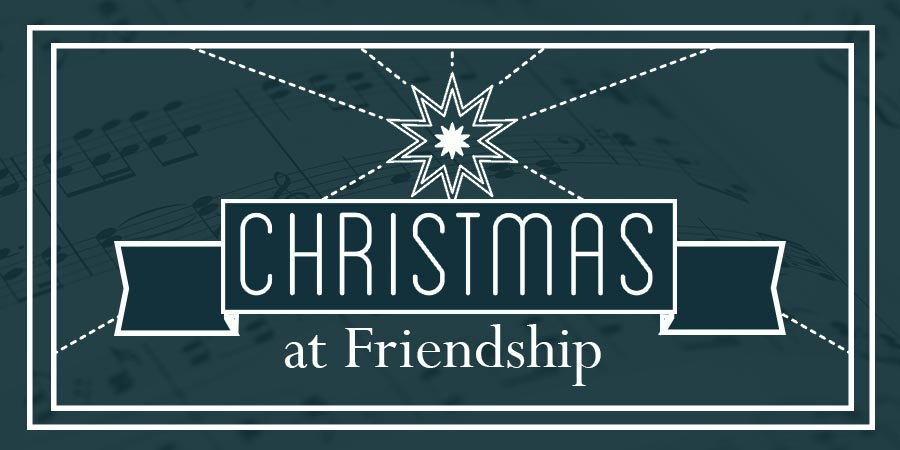 Written by Brent Brondyke, Music Pastor
"Christmas at Friendship" is the title of our choir and orchestra Christmas program presented this Sunday, December 13, at 11:00 am and 6:30 pm. It will be a wonderful celebration of the incarnation of our Savior. The program includes singing, playing, Scripture, and a message from our Pastor. All the participants have worked and are working hard to present an excellent worship service which will convey the message of Christmas. Don't miss it, and invite your friends! You can assure them we are doing what we can to make it a safe environment. And, you can be assured, they will hear the gospel! Both services will be livestreamed.
"Christmas at Friendship" brings to mind more than the title of our program. Of course, this Christmas is different… everything seems different right now! However, we want to make it as "normal" as possible. That's why we're going ahead with a live performance. Many churches are not, and there is nothing wrong with that. But, we really believe we can do this and prioritize safety at the same time. Christmas for believers is a time to celebrate together if possible. Music has always been a part of this. By God's grace, being together and celebrating with music will be a part of Christmas for us this year, too.
"Christmas at Friendship" this year will truly be a bit different. We've never had congregants wearing masks, nor brass players covering their bells with "masks," to be sure! We will have to miss out on some activities we normally would have enjoyed on Sunday morning, December 20. We certainly plan a morning and evening service that day, but in past years we would have had men singing in the Welcome Center, coffee and doughnuts, and a gift for folks as they left the service. Those things will have to be set aside until next year.
"Christmas at Friendship" has meant a Christmas Eve Candlelight Service for several years now. We DO plan to enjoy that together again this year. We want to get folks on their way to other obligations so the service is pretty early, 4:30 p.m. It will be an hour and include singing, praying, and Scripture… and, of course, candle lighting. We'll have to modify that a bit, so come and find out for yourself exactly what that will look like this year. It will be beautiful as usual! I have always described it as a simple and beautiful service.
"Christmas at Friendship" has always been a wonderful time. It will be different this year. For me, it is still "the most wonderful time of the year!"