Beyond November: Embracing a Lifestyle of Gratitude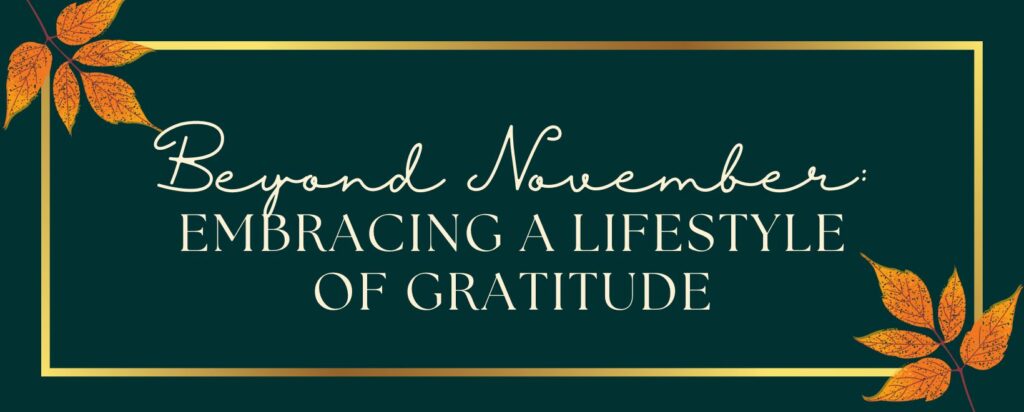 written by Erica Baldwin
For the believer, a posture of thanksgiving isn't confined to the month of November—but it's the perfect time to reset our hearts toward the spiritual discipline of gratitude.
In Scripture, we're instructed to give thanks in all circumstances:
In everything give thanks: for this is the will of God in Christ Jesus concerning you.

1 Thessalonians 5:18
Ephesians 5 says gratitude offers evidence of wisdom and being filled with the Spirit.
But beyond God's provision of our daily needs, several motivations for gratitude are uniquely Christian. See how—and why—we should give thanks for the Gospel, for the church, and in seasons of suffering.
For the Gospel
For those who accept and believe, Christ's sacrifice on the cross and His redemption from sin is the beginning of eternal life reconciled to God. But our gratitude for the Gospel—the good news!—extends beyond the day of salvation.
Because of our standing in Christ, we have countless provisions directly related to His sacrifice on Calvary. Among them, we have
stored-up hope in heaven (Colossians 1:5)
fruitful work, strengthened by God's power, supplied with patience and joy (Colossians 1:10-11)
and an incredible inheritance with Christ.
Giving thanks unto the Father, which hath made us meet to be partakers of the inheritance of the saints in light: Who hath delivered us from the power of darkness, and hath translated us into the kingdom of his dear Son: In whom we have redemption through his blood, even the forgiveness of sins.
Colossians 1:12-14
Beyond gratitude for Gospel benefits, our hearts become attuned to recognizing God in our daily lives. In A Gospel Primer for Christians, Milton Vincent writes:
"As I meditate on the gospel each day, I find my thoughts inevitably traveling from the gifts I've received to the Giver of those gifts; and the more my thoughts are directed to Him, the more I experience the essence of eternal life."
For the Church
In letters to various churches, Paul expresses gratitude for the church, even as he offers correction or rebuke. He thanks them for their steadfastness (Thessalonians), their partnership in the Gospel (Philippians), and their faith in Jesus (Romans, Ephesians, Colossians, 1 and 2 Thessalonians, Philemon), among other virtues.
Beyond the global body of believers, the local church is God's conduit for teaching doctrine, fostering fellowship, remembering Christ's sacrifice, and corporate prayer (Acts 2:42).
We gather, keeping in mind that God who began a good work among our fellow brothers and sisters in Christ continues until the day of Jesus Christ (Philippians 1).
I thank God for a church that teaches the Word and provides opportunities for fellowship with other believers, including opportunities
to rejoice together
to mourn together
to offer encouragement
to take part in the Lord's table
and to gather for prayer!
In Suffering
One of the most difficult times to express gratitude is during trials.
We know God is good, but when we face loss, disease, relationship fractures, or misunderstandings, gratitude is often not our default. We don't brush over our grief, but praising God in suffering is evidence of our trust in His character and His ways—even when we don't understand.
Scripture instructs us to "glory in tribulations" (Romans 5:3) and "count it all joy" when we face various trials (James 1:2). Several verses even tell us that gratitude is a sacrifice of praise (Psalm 50:23, Hebrews 13:15), and giving thanks in trials certainly costs us something.
When we offer thanksgiving with our lips, our hearts often follow.
Look for the ways God provides during difficulties (comfort, practical needs, wisdom for next steps, patience, endurance), and remember to thank Him for it.
---
Gratitude as a Lifestyle
Practically speaking, several methods can help us stay on track when creating a lifestyle of gratitude:
Keep a gratitude journal by your bedside, noting three to five specific things you're thankful for daily, including small blessings or ways God's character was evident.
Designate a day of the week for concentrated prayers of thanksgiving.
Share one thing you're grateful for each night around the dinner table.
* If you have children, this practice cultivates an attitude of gratitude, encouraging them to look for God's provision and character throughout the day.