We Need the Word—Together
The culmination event of our FBC Ladies' Anchored in the Word series began on a blustery Friday evening a couple of weeks ago. Just imagine ladies of all ages enjoying the following:
sweet fellowship
a delicious baked potato bar with an assortment of toppings
encouragement in the precious Word of God
laughter around table games after the first teaching session
oven-baked s'mores since the rain cancelled the bonfire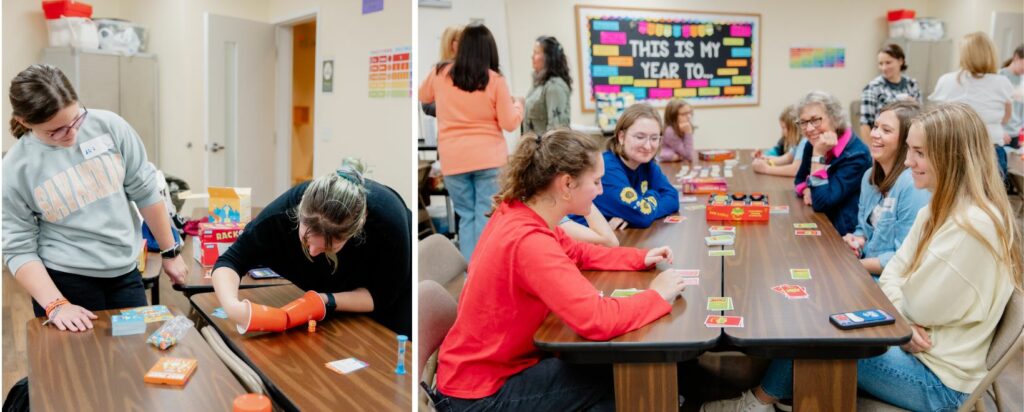 It continued the next morning with a heartfelt time of prayer for the written requests the ladies had submitted the night before and a reminder of Who we were crying out to El Roi—"Thou God seest me." We then moved into the Welcome Center to enjoy a wonderful continental breakfast (and to fuel up on coffee) before heading into the next couple of teaching sessions.
Cheers and laughter filled the Auditorium when we were split into two teams to enjoy a tic-tac-challenge which included a spelling competition and 3-legged race—among other exciting contests. This was a fun little switch for our minds after being challenged with some deep digging into God's Word to truly grasp the whole context of key passages in the books of Titus and James.
It was such a privilege to get to know our speaker, Kelly Collier, and hear how the Word of God sustains and enables her to know and to worship our Savior in such a personal way. Her love for the Lord and His Word was so evident as she passionately shared what a treasure it has become for her and continues to be as she searches for Jesus throughout each of its pages.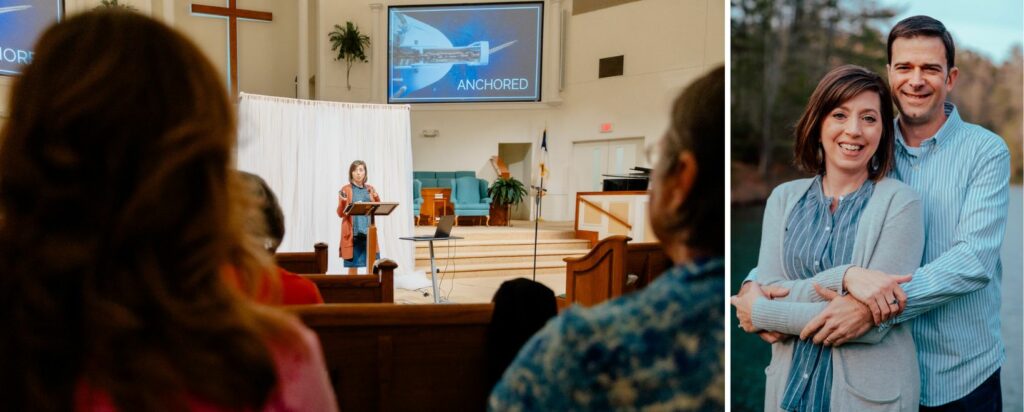 Not only does she have a ministry of counseling at The Wilds Christian Camp as she serves alongside her husband, but she also has authored a few inductive Bible studies, including the one that our ladies are going through—Lives that Adorn the Gospel.
Through this study, we've gained such a greater appreciation for the book of Titus—the letter written from the Apostle Paul to encourage his son in the faith, and it was so special to have Kelly join in our group discussion time for that week's lesson. This study has taught us the inductive Bible study method which is essentially approaching Scripture like an investigator—seeking to discover truth not coming with a conclusion already formed. (By the way, it's not too late for you to join the second half of our study which will begin in early January—we'd love to have you!)
Here's a sneak-peek at some of the incredible truths from God's Word that Kelly so kindly shared with us (these are just the highlights—we learned so much in just 2 days):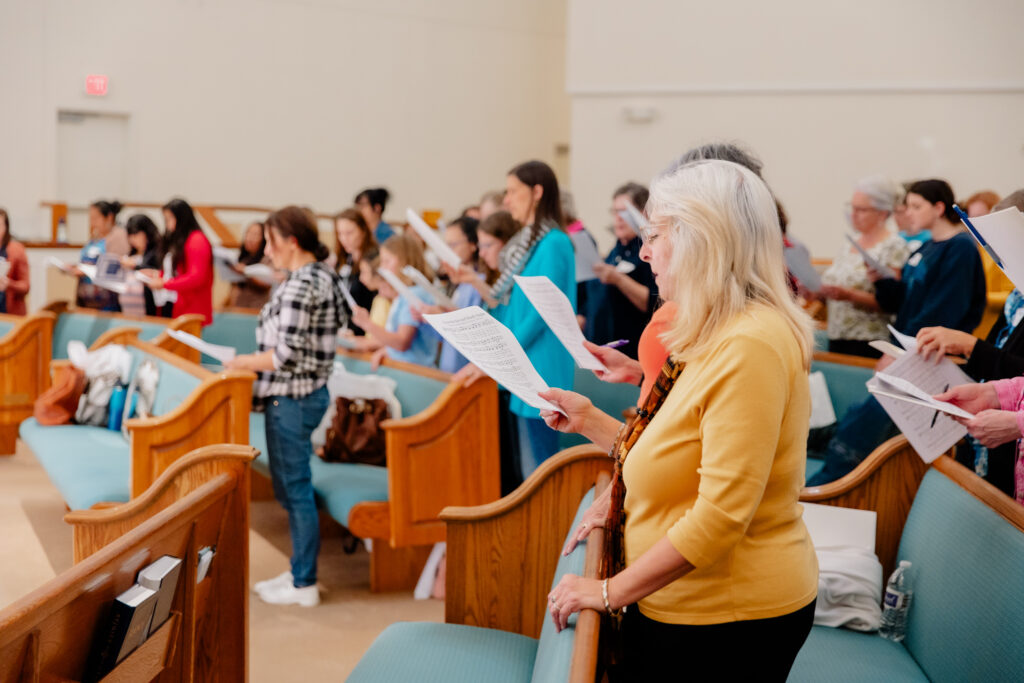 Anchored to the Word
This keeps us from the temptation of drifting away from the Lord, doubting our faith, and being deceived by our enemy
How do we keep anchored to the Word?

By humbly digging in it every day looking for our great God and by surrounding ourselves with brothers & sisters in Christ who will speak sound doctrine to us (Titus 2). Kelly pointed out that the language of the New Testament is written corporately for a group of people—the Body of Christ.
When we are listening to the Word with the intent to obey it because of our gratitude for all Christ has done for us, God will remove the scales from our eyes and we will have the privilege of bringing Him glory as we become more and more like Him. [In Hebrew there is only one word for both "listen" and "obey"—'shema' pronounced 'sh'-mah']
Anchored to the Lord
The Bible is all about a Person! Instead of coming to it as "what does this book have for me?" we must ask ourselves "what can I learn about God?"
From the passage Titus 2:11-14 we learned that Grace is a person—Jesus!
The righteous life of Jesus is what….

Redeems us when we put our faith in Him—this is called justification
Transforms us as we behold ("to gaze with wide-opened eyes") Him in His Word—this is called sanctification
Restores us to His perfect image one day for all eternity (the hope we cling to for the future)—this is called glorification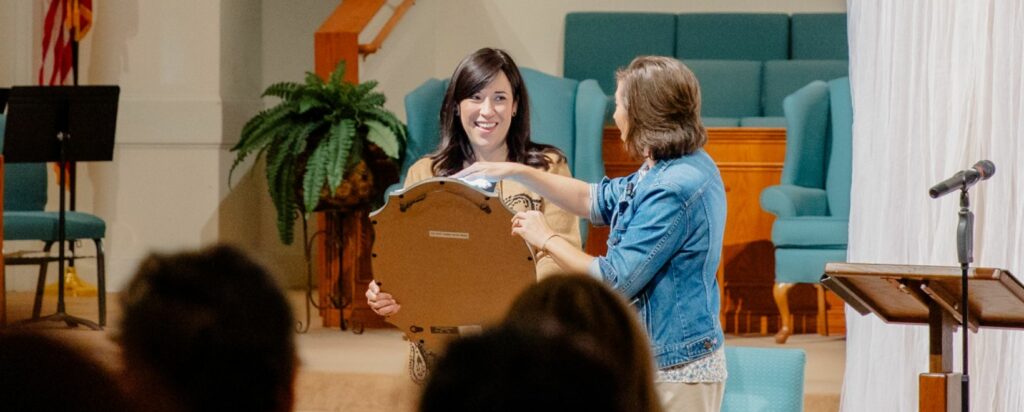 But we all, with open face beholding as in a glass the glory of the Lord, are changed into the same image from glory to glory, even as by the Spirit.

2 Corinthians 3:18
Anchored in Relationship
How do we stay anchored?

By keeping a proper view of our sin which will lead to a proper treasuring of the Gospel!
By committing to pursue God and His Word
We found out from Hebrews 5:11-13 that if we aren't actively pursuing Christ there will be a regression—we won't be able to handle the meat of His Word.
Ladies, if you weren't able to attend this wonderful weekend of fellowship and spiritual encouragement, we would highly recommend that you do everything possible to join us next time. It was a reminder of the strength and edification we find among sisters in Christ who have the same desire to be vessels of honor bringing glory to our Savior.
We left this event with our hearts full of gratitude and a renewed sense of purpose—adorning our lives with the Gospel!
"Biblical growth is when you face God's Word, and you bow the knee."

Ken Collier