FBC Ladies' Retreat: Unity Through Prayer, Bible Study, & Laughter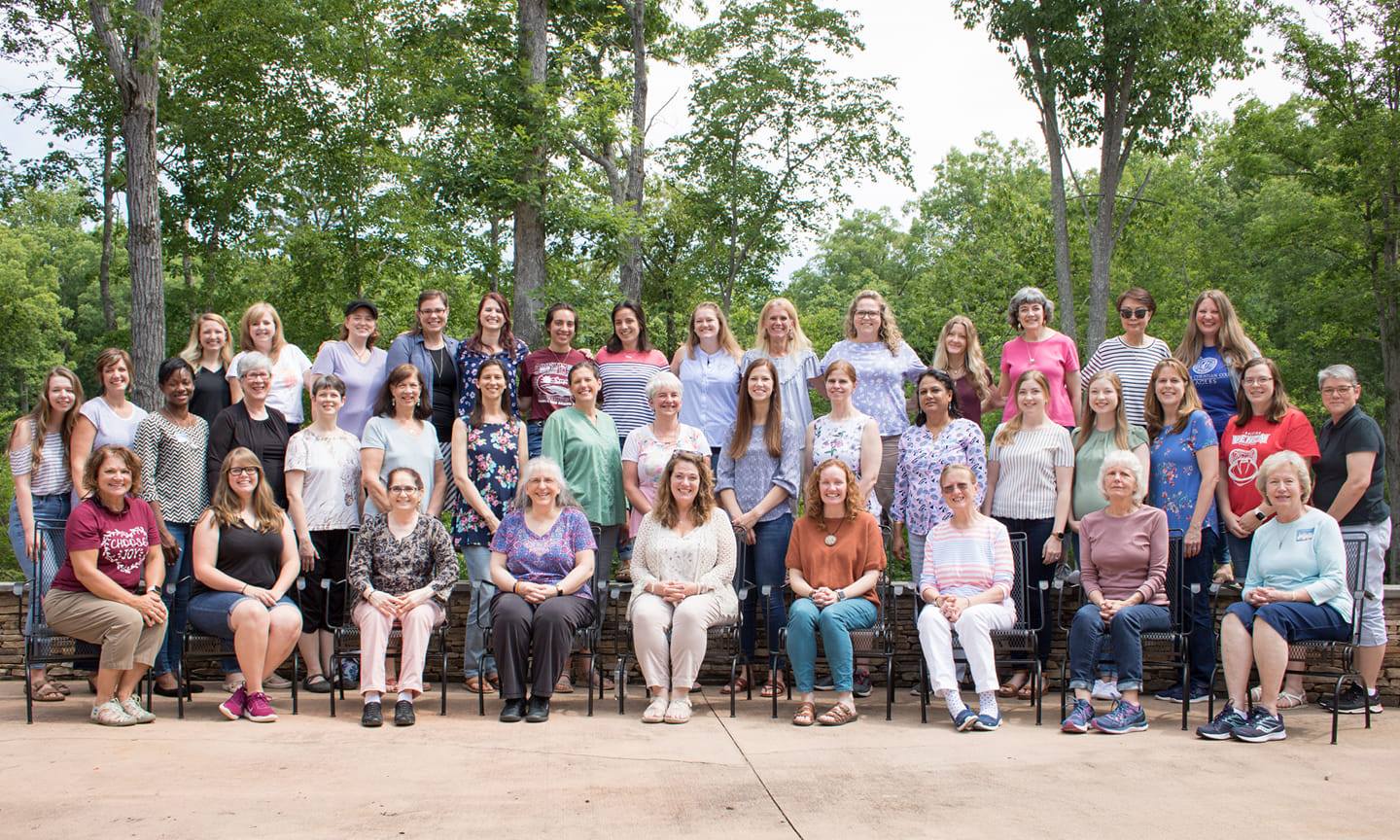 Written by Erica Baldwin
"I had my plans, but God…" was a recurring phrase heard during the Friendship Baptist Church ladies' retreat on June 4-5. Held at Camp Caraway near Asheboro, NC, the removal of everyday distractions and the time constraints of rushed after-church conversations provided opportunities to grow and bond as sisters in Christ.
With the theme "Together We Bloom," 40 Friendship women and guests gathered to hear testimonies, study God's Word, sing, share meals, pray together, and enjoy some indoor and outdoor activities. The "but God" testimonies — from adulthood conversions to Christ and long-awaited answers to prayers — helped women find a common bond of God's faithful pursuit and presence.
Ladies from all stages of life and responsibilities attended — single adults, young mothers, career women, and retirees were present. Tiffani Stevens admitted she was hesitant to take time off work to attend, but noted, "My uneasiness melted away quickly once we arrived." She added, "There were so many different perspectives from some amazing godly women. I learned so much — it was truly a retreat from the worries of the world. For me, it cemented the fact that I'm right where I need to be at Friendship."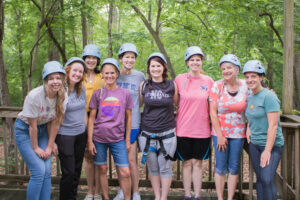 Rachel Delk said it was hard, but worth it, to leave her two young girls at home and off of their regular routine. "I was able to break the 'mom routine' and replace my short-sighted day-to-day concerns with a renewed focus on my Savior. The change of pace was refreshing!"
Rachel shared that some of her favorite moments included the small group Bible study, where she was grouped with several women she didn't know well. "It was a little intimidating at first, but the more we discussed our Bible passage, the easier it became to share," she said. "I was struck by the truth that no matter how different our personal experiences or stages of life may be, God's Word is what ties us together as sisters in Christ."
The Bible study, Rachel said, was her most memorable part of the retreat, followed by a riotous game of Telestrations as a close second. Laughter and tears certainly filled the room as ladies shared their "artistic" abilities during the ice-breaker game.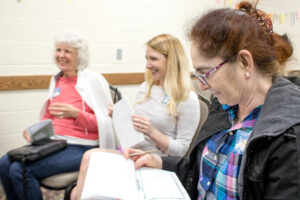 The theme for the weekend was unity, with the focus verse of I Peter 3:8: "Finally, be ye all of one mind, having compassion one of another, love as brethren, be pitiful [tenderhearted], be courteous."
During her teaching on I Peter, Rachel Vradenburgh shared an illustration from A.W. Tozer, who wrote in The Pursuit of God: "Has it ever occurred to you that one hundred pianos all tuned to the same fork are automatically tuned to each other? They are of one accord by being tuned, not to each other, but to another standard to which each one must individually bow."
As we each seek to tune ourselves to Christ, Rachel encouraged, we will be more in sync and unified with each other. Heather Jones and Debi Brondyke also spoke on brotherly love and humility, both essential to loving and serving Christ and each other well.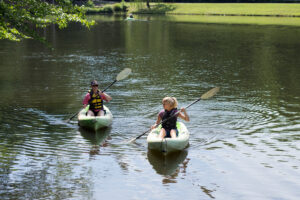 While many ladies ventured outside for hiking, zip-lining, and kayaking, others enjoyed wreath making, led by Victoria Parker, or puzzles and games. One impactful session included break-out prayer groups who prayed by name for homebound members and church neighbors. Other groups wrote personal notes to these recipients or recorded their own salvation story to share with others.
While getting spiritually fed during the retreat, it was also a blessing to have focused times of prayer and service. "It was great to be able to fellowship together while also reaching out to others with the Gospel," said Breanna Adkins, who wrote letters to neighbors of FBC.
Small groups studied a passage of Scripture together and shared their "pocket statements" (or short phrases to summarize the passage) with all attendees. These included:
Humbly practice your God-given gifts – Romans 12:3-8
God's standard — get busy — Romans 12:9-13
Powerfully pray in every circumstance — James 5:13-18
Love versus devour — Galatians 5:13-15
Purified in Christ, continually edify one another — Hebrews 10:19-25
Unity through love, faithfulness, and humility — Ephesians 4:1-6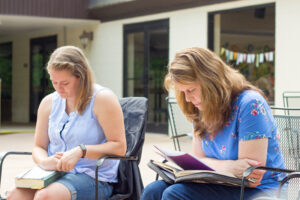 The retreat also allowed for plenty of laughter via games and puzzles, "guess who" over silly/strange facts during meal times, and shared stories with s'mores by the firepit.
"As a new member to Friendship, I felt attending the ladies' retreat would be the best, immersive way to get to know people better," said Michelle Nowak. "I didn't know what to expect, but whatever my expectation, it exceeded it! Whether you are introverted like me or an extrovert, a retreat like this will absolutely bless you!"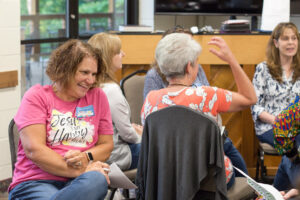 Longtime members like Sherry Goodson (a member for 30-plus years) also benefited from the time together. "I have never seen nor felt such unity and love among the Friendship ladies," she said, adding that she loved watching some of her former preschoolers, now young adults, serving wholeheartedly during the retreat.
"I was reminded that 'Together We Bloom' not only for Christ, but for each other," Sherry concluded. "For me, I brought home the thought that each lady is a special flower in the garden of life and how we need to water, nourish, and take care of each other."
Friendship Baptist Church traditionally hosts an overnight ladies' retreat every other year, as well as seasonal fellowship and service opportunities throughout the year. Stay tuned for upcoming events.
A special thank you to Friendship events director and women's ministry team leader, Heather Jones, and her team Breanna Adkins, Beka Boehme, Debi Brondyke, and Ellen Olson, who helped plan the retreat.