Zoom Prayer Meetings Draw Us to God and Each Other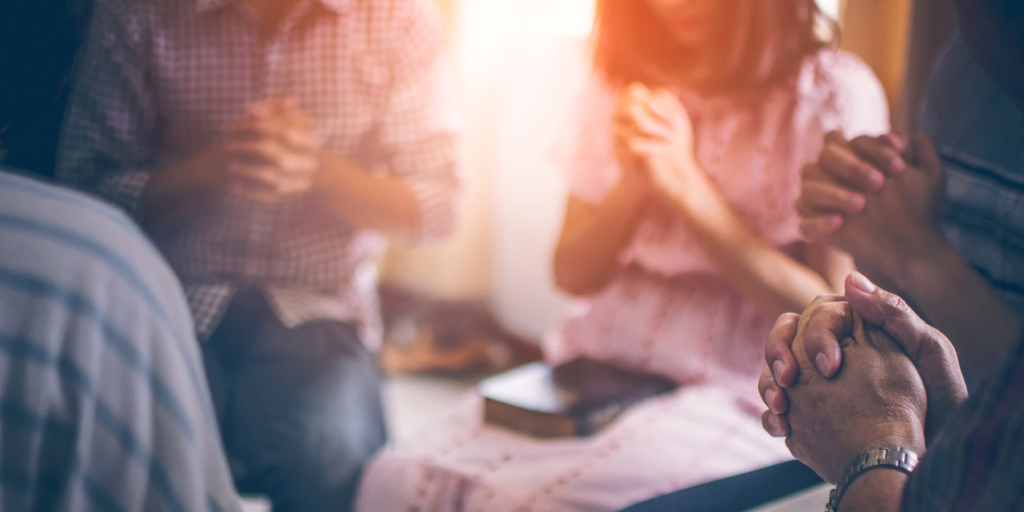 Almost every Saturday morning since the pandemic began, I've met with a handful of ladies over zoom to pray. Before we knew the term "social distancing," these prayer times were held in person at church, which I admittedly attended very rarely. Now, with my coffee cup in hand, I slip away for 45 minutes on a Saturday morning to holy ground in my upstairs office with the morning sun shining through the window.
Through our screens over the past year and a half, we've weathered sickness, pain, sorrow, and deaths of dear ones in our church. We've also shared praises for our ever-present God and answered prayers. We span generations, from new moms to seasoned grandmas. As my 9-year-old tries to dart in and out of the room, I smile and give the "mom look" as I mute my mic. Sometimes we read a devotional or passage of Scripture together. Other weeks, we attempt to sing, laughing because our video screens only highlight one voice at a time.
One single mother prays with passion the attributes of God, for church leadership, and strong families. Another's voice cracks as she recognizes God's goodness in life's hard seasons. Yet another brings her friend's name before us each week, pleading for salvation.
More than the convenience of meeting online, I've loved hearing the hearts of these ladies beyond our Sunday morning "Hello, how're you doing?" Their wavering voices and tears testify to their love for others and their devotion to our Lord, the One who has made us sisters. We represent decades of being known by the Lord and serving His church.
I am spurred on by these ladies to run the race with perseverance and hold on to a faith worth fighting for. I am encouraged to keep praying for needs week after week, not because God's action depends on our prayers, but because prayer puts our hearts in the right mindset to see that God is at work.
Author Tim Challies puts it this way:
Praying declares that we do not have the wisdom we need.
Praying declares that we do not have the time we need.
Praying declares that we do not have the motives we need.
We pray for the sick and the lost because God's Word tells us to (James 5:14, Luke 19:10, 1 Timothy 2:1-4). We pray for God's glory to be evident in how He heals or doesn't. We pray with urgency for those we love to know Jesus. We pray for patience, encouragement, endurance, and strength. We pray our hearts don't become hard. Together, we are fighting against principalities on these unassuming Saturday mornings.
"The need of the hour is this, beloved: to seek God's face together," Pastor Bob Vradenburgh urged our Friendship congregation in his sermon A Clarion Call to Corporate Prayer. Our pastor's heart is for a church that prays fervently, frequently, and with unwavering faith.
Our 9 a.m. corporate prayer meeting is a simple time. And honestly, I don't always feel like opening up my laptop on a busy Saturday morning (or a lazy Saturday, for that matter). But by 10 a.m., my heart is refreshed and my spirit is determined to trust God more.
This regular, out-loud prayer draws my heart to my Savior and gives me a greater appreciation for His people. If you don't have a regular prayer time with someone outside of your household, I encourage you to do so. Just hearing someone else's cadence in prayer calls my ears to attention and draws my heart in agreement and praise. Reach out to a local friend or hop on a video call – there's just something about seeing someone's face when you gather, even if it's through a screen.
If you want to join one of Friendship Baptist Church's regular prayer meetings over zoom, there is room for you in our women's and men's virtual prayer meetings. You are always welcome.
Contact Heather Jones to get connected at heatherj@friendshipraleigh.org or (919) 876-0585.
 – Written by Erica Baldwin