Messiah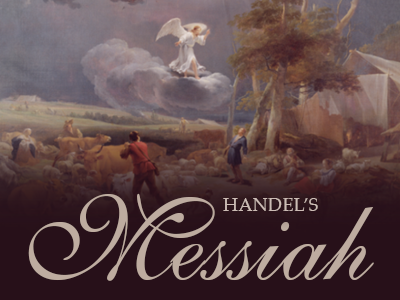 written by Pastor Vradenburgh
George Frideric Handel's oratorio – Messiah – is without doubt his "magnum opus"– his greatest work (and he had many). Having suffered a stroke and fighting depression, he gave what he considered his "farewell concert" in April, 1741. Then from the depths of anxiety, he rose to compose this Magnum Opus – this triumphant expression of faith in the Gospel of Jesus Christ!
Handel gave it the title of Messiah. What is comprehended in that one word? Is the word "Messiah" just a Jewish thing?
The word "Messiah" is distinctly Jewish. It comes from the Heb. word "mashiach" – meaning "Anointed One," or "Chosen One." But inherent in this wonderful word "Messiah" is the idea of Savior – or Deliverer (reflected in the soprano aria "Behold thy King cometh unto thee; He is the righteous Saviour…")
1) The greatest news flash that ever broke across Planet Earth was given by an angel who lit up the sky over Bethlehem and told some awestruck shepherds: "Behold, I bring you good tidings of great joy, which shall be to all people… For unto you is born this day… a Savior which is Christ…" This was definitely not a Jewish secret!
2) A few days later, an old, old man named Simeon held the infant Christ, and the Holy Spirit came all over him as he said: "Mine eyes have seen Thy salvation… a light to lighten the Gentiles…" So this Messiah wasn't just for Jews!
3) 30 years later, Jesus revealed for the first time that He was the Messiah. To whom? A family member? A loyal disciple? A rabbi like Nicodemus? Some devout Jew? No! To a fallen Gentile woman who said, "I know that Messiah is coming, and will tell us all things" (John 4:25). Jesus answered her in effect: "Coming – nothing! He's already here! In fact, you're talking to Him!" (v. 26)
What a stinging rebuke to the religious elite of the nation Israel! Oh, how tragic it is to be religious but lost!
Permit the writer to ask you three pointed questions:
1. Is Jesus the Christ, the "Anointed One," the "Messiah," your personal Savior?
Can you say "The Lord is my Shepherd"? He is the Good Shepherd, Who leaves the 99 in the wilderness and leaves no stone unturned till He finds that one lost sheep! He is a personal Savior! The great apostle couldn't get over that fact! In Galatians 2:20 Paul referred to the One "Who loved me and gave Himself for me."
2. Is He your Savior from sin? Not just from Hell?
The very meaning of the name "Jesus" as given by the angel to Joseph is "Savior" or "Deliverer" (Matt. 1:21). He was born to "save his people from their sins."
It is sin that separates you from God and puts you on a collision course with Him.
Before Jesus revealed to that fallen woman of Samaria that He was the Jewish Messiah and gave her living water, He confronted her sin. Something has to be done with your sin before you can have fellowship with God!
It has to be dealt with before you can enter Heaven! "There shall enter into that city nothing that defileth…" (Rev. 21:27).
3. Is Jesus a spiritual Savior to you – not a political One?
Much to the disillusionment of many – even His own disciples – He did not overthrow Rome. He came to defeat sin – to "destroy the works of the devil." Have you experienced Him in this way?
The great pastor and hymnwriter John Newton – old, blind, and near death – was heard to say: "Although my memory is fading, I can remember two things very clearly – 1) I am a great sinner; and, 2) Christ is a great Savior!"
Can you say that? Could it be that you have sung Newton's great hymn "Amazing Grace" many times, but never yet truly experienced it? You have called God your Father in prayer often but have never been born again? You are perhaps very familiar with the terminology and trappings of Christianity, but it's all head knowledge and lip service? Oh, remember Judas! He "kissed the door to Heaven and went to Hell!"
It is entirely possible that at this season of the year you appreciate the great oratorio – the "magnum opus" of G. F. Handel – but only on a superficial level. You have a discriminating taste for the finer things, for sublime music, for that which is aesthetically pleasing, for that which strokes you just right, but your heart remains untouched! You have never repented of your personal sin, of your rejection of Christ, and called upon this Messiah as your personal Savior!
Oh, don't put it off! Right now, will you in faith "behold the Lamb of God, that taketh away the sin of the world"? That's why Messiah came!