Friendship Kids Winning the Race
Written by Nate Black
It All Starts with a Block of Wood
Each spring, one of the big events in the Friendship Kids Club is the Grand Prix race. This is similar to the Pinewood Derby race in which Boy Scouts or AWANA clubbers compete. Each clubber starts with a block of wood, four metal axles, and four plastic wheels and begins designing the car. This year we had 35 clubbers participate. On the night of the Grand Prix, a four-lane wooden track is erected in the gym, and clubbers race their cars to the finish line.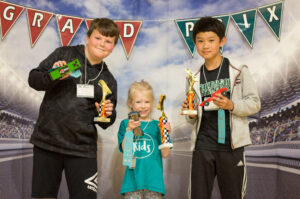 Ready, Set, Go! … The Speed Category
All the cars compete in the speed category. Each car is powered by gravity alone and can weigh a maximum of 5 ounces (heavier cars are faster). To increase the speed of their cars, clubbers try numerous tricks/techniques such as polishing the axles and adding graphite wherever necessary to reduce the friction between the moving parts of the wheels and the car body. The Saturday before the race, we hold a workday where kids can receive help with the weights, wheels, and axles. This year around 20 clubbers participated in the workday.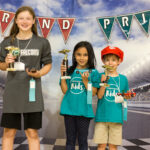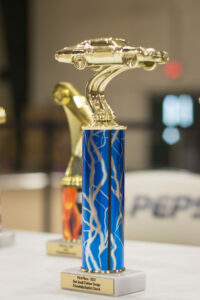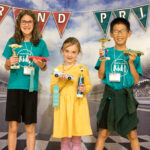 Special Design Category in Honor of Don Small
Additionally, each car competes for a design award. Cars are judged based on originality, shape, finish, and overall appearance. There are two categories of design awards. First, there is the Adult-Assisted Design category, where clubbers can receive as much help from parents, grandparents, uncles, friends, etc., in designing their car. Several years ago, our long-time director, Don Small, suggested creating a special category where kids would compete just against other kids for designing their cars and not against other adults. In his honor, the second design category is the Don Small Clubber Design category. In the many years that he led the Wednesday night kids program at Friendship, he helped countless kids with their cars. This year, the designs included traditional race cars, a tennis shoe, a boat, an astronaut, a strawberry, and even a wedge of cheese!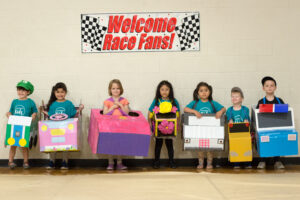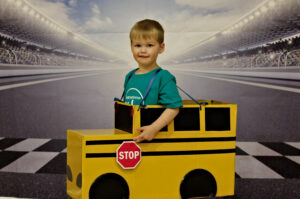 Boxcar Parade for the Preschool Clubbers 
The preschool clubbers aren't quite old enough to build a car out of wood yet, so they get the opportunity to create a car out of a cardboard box. With the prevalence of online shopping, every household has boxes of varying sizes arriving on a regular basis. The clubbers select a box of the right size and shape and then decorate it as they choose. Then, on the night of the Grand Prix, the preschool clubbers get to show off their hard work as they walk in the Boxcar Parade wearing their car before the main race starts.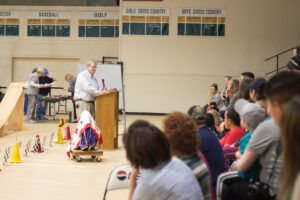 Bible Message from Pastor Peterson
Each year we have a special speaker who brings a message from the Bible. This year we were honored to have Pastor Peterson as our speaker. He shared how he came to Christ as a ten-year-old boy. Part of his testimony involved how much he liked to ring the bell in the steeple of his church growing up, and he brought in a 300 lb. bell from a railroad engine that his dad gave him to ring whenever he wanted to. Pastor Peterson demonstrated an illustration that his pastor used by folding a piece of red paper and cutting it to produce a cross, a spear, and other elements that told the story of Christ's death. This illustration spurred Pastor Peterson to call on Christ to save him as a child.
The Grand Prix's History
The Grand Prix has been an annual event at Friendship since we used the AWANA curriculum years ago. We would borrow a track from a church in Durham in the early years. The track got the job done but took several hours to set up, and the cars would bump over the transitions between each section. Garry Loy built a second track to replace this one out of a piece of blue tempered spring steel (large clock springs were often made out of this type of material). This track was much faster and could be set up and ready to race in 15 minutes. Also, the section bump problem was solved since there were no seams. In addition, it was a two-lane track that was quite portable since the steel could be re-coiled after the race and transported compactly in the trunk of a car. When our newest 4-lane wooden track was purchased (to handle the increased number of clubbers), we sent this metal track with Gene Hayden to South Africa, where it is still used today as part of the ministry out of the Paardeberg Mountain Retreat. Its compact design made it perfect for shipping overseas and traveling across South Africa as races are held in local towns and villages.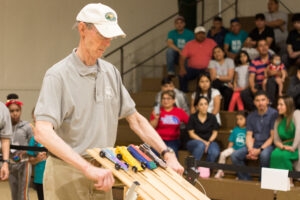 Tracking Speeds Less Than One-Thousandth of a Second!
Another aspect of the Grand Prix that has changed over time is how the speed is tracked. In the beginning, human judges watched from different angles, making the call as to which place each car crossed the finish line. However, for very close races (usually for very fast cars), it was next to impossible to discern with the naked eye. To address this issue, Jerry Kennon built an electric eye circuit that improved this challenge significantly. His home-built system was then later replaced with the professional MicroWizard FastTrack timer we use today that is accurate to one-thousandth of a second!
Meet our Directors
FK Grand Prix is an exciting event for the children of Friendship and could not happen without our directors, Nate and Angela Black. They oversee our Friendship Kids ministry on Wednesday nights and have faithfully served in this role since 2017.