Men's Retreat Recap with a Unique Twist
written by Samuel Paulraj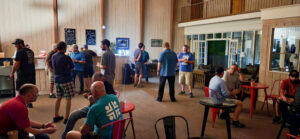 No Power? No Problem! 
While there are many unique and life-altering events in a given year, the 2022 Men's Retreat at Camp Caraway in Sophia, NC, might take the cake as the MOST unique event of 2022! We were without power for 16 of the 19 total hours, which made for a challenging but memorable retreat. The lack of electricity allowed us to focus on fellowship and digest the truth-packed messages given by our special speaker, Ken Collier, former President of The Wilds Christian Camp and currently "Camp Coach."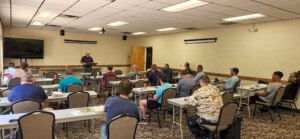 Theme: Leadership in the Home
Ken spent the weekend with us, challenging us from God's Word and dissecting the topic of "Leadership in the Home." This was Ken's first summer trip away from The Wilds since starting his ministry at the camp 50+ years ago! Ken taught four sessions where he explained the importance of humility and servanthood in any God-fearing leader. In our day and age, these two characteristics are nearly forgotten regarding true leadership, but Ken Collier reiterated their significance in our lives. 
Humility – A Contagious & Powerful Attitude 
Ken took us to 1 Samuel 25, where he showed us how powerful and contagious an attitude of humility can be. By comparing the three main characters of the chapter, Nabal, Abigail, and David, he challenged us to keep our "heart's focus and highest consideration on God and others instead of ourselves." In the home and real world, we, as men, must lead with a heart of humility above all.
Servanthood – Christ as Our Example  
The second theme was servanthood. Ken took us through passages that showed us various examples, followed by the ultimate servant, Jesus Christ. Although Christ set the greatest example of serving, we often forget that "true greatness comes through service." Pastor Vradenburgh admits that even though he was never a good basketball player, Ken Collier's illustration of "court awareness" resonated with him. He shares, "This is God's perspective, and He will give us this sixth sense of who needs our humble service the most at any given time if we just have a heart to help. For example, the woman with the issue of blood who touched Jesus' garment could not go unnoticed." 
Ken Collier perfectly wove these two themes together to reiterate that we must continue to "learn God to visualize and manifest the full character of Christ" and become leaders in our homes and lives. We must strive to serve God and others faithfully and humbly.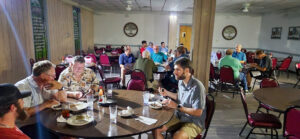 Humility in Action 
The many Camp Caraway employees humbly served us by keeping us fed with delicious food, maintaining the beautiful grounds, and getting the power back up and running. And of course, as men, the most important part of any trip is always the food, and we enjoyed an abundance of it throughout our weekend. From tender meatloaf to soft shell tacos, we were well fed physically and spiritually all weekend.
Extra Blessings
A few extra blessings from the power outage were not only focusing our full attention on fellowship and the things of God, but we also got free ice cream! Even though many men did not get a good night's rest due to the heat of the rooms or a loud generator running outside (as was the case for Joe Waters), the fellowship the following day was still sweet – the hot biscuits and gravy probably helped. Even with the lack of sleep, Joe Waters identified with an illustration Ken shared regarding taking out the trash, reminding him about pride. He reflected, "Pride is when I choose what I want; humility is when my heart's focus and consideration are on God and others – and not me."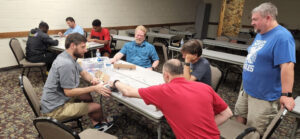 Free Time & Fellowship 
The men also enjoyed some free time where we played billiards, table tennis, and board games. Although playing games well past midnight was enjoyable for all, I know no one enjoyed it more than Nate Black, who was the Rummikub king for the night!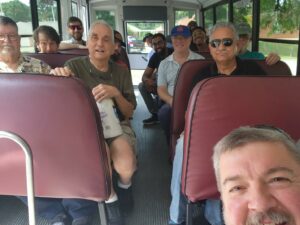 Men of All Ages and Stages
Nineteen Friendship men of all ages and stages of life were on the receiving end of this vital teaching. In addition, the men were greatly encouraged through song, the study of God's Word, delicious meals, and group games. Forrest Goodson summarized, "The retreat was a great time of fellowship and instruction in Biblical leadership through humility. And I enjoyed making new friendships and was encouraged by my fellow brothers in Christ." Pastor Brent also shared, "The FUN of laughing and enjoying each other's company (men of all ages), the FELLOWSHIP in the Word and meaningful conversation, mingled and flavored with great FOOD…the "three F's" in an atmosphere that accentuates the beauty and majesty of God's creation." 
This was the first men's retreat I have had the privilege of attending since coming to Friendship two years ago. The jokes, conversations, games, and spiritual and physical food, made for an amazing weekend. But, above all, I enjoyed the sessions filled with wisdom from Ken Collier and the comments from the other men from our church who shared unique perspectives on the topics at hand. The comradery that I built with different men over the weekend is something that will stay with me for years to come! 
Samuel serves on the A/V Team and is also one of the friendly faces of our First Impressions Ministry!